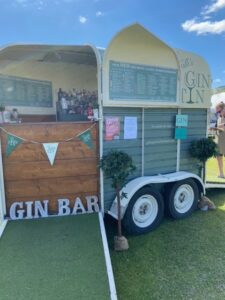 What a weekend we had! I don't know if it was the sun, the ease of lockdown or just that Ilkley festival didn't happen in 2020 but wow did the attendees, staff and other vendors make this an event to remember!
Set in the beautiful East Holmes Field in Ilkley the whole event was snuggled in the Wharfe Valley, right on the edge of the Yorkshire Dales. This family friendly event really does offer something for everyone, from magic shows to music artists, tiny bakes to huge catering companies and wine bars to cider – you will definitely find something (if not lots of thing) you absolutely love.
We arrived early on Saturday morning to set up and prepare for the day. We unpacked our two days' worth of stock and made sure Gilli looked fantastic, ready to greet people.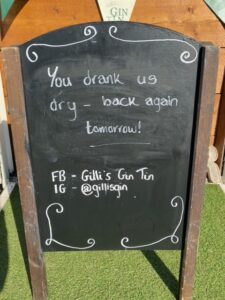 By 12 o'clock the gins were flowing, and we were excited for each ping of the online app. We felt like a well-oiled machine, receiving orders, creating drinks, and delivering gins to people sat at our tables. This system worked extremely well till we experienced technical difficulties with the app – all traders attending the event can sympathise here. The volume of drinks and technical malfunctions changed the relaxed speed of gin making very quickly, as numbers picked up and people wanted to enjoy more and more gins in the sun, that by 6pm we found ourselves out of gins, tonics and all ice. At this point we made the decision to (metaphorically) close our hatches to avoid making subpar drinks. This wasn't a decision that was made lightly but we were very impressed with how Ilkley drank us dry!
That evening we packed away, made note of the new stock we needed and headed off to our campsite to try and catch some much-needed sleep. Sunday was another early start and meeting family members that had quite literally saved the day and driven up with stock refills (we absolutely owe them a few gins!) ready to start all over again. With the football airing I didn't anticipate us being as busy as the previous day, but I couldn't have been more wrong. The atmosphere was different and everyone was more chilled, but this didn't stop the orders rolling in. This time we managed to get closer to the end of the festival day but Gilli certainly came home a lot lighter, even with the refill.
What blew us away the most was how popular our little tin turned out to be, we had returning customers throughout both days and heard loads of compliments, which kept us (sane) going at the exceptionally busy times. Thank you to all the organisers, other traders and customers for making these new kids on the block feel so comfortable at such a successful event.
Top five gins of Ilkley:
Yorkshire Lass' Gin – Orange and Lemongrass